HOSPITALITY
A Luxury Smart Hotel in the Heart of Central Italy
With its digital fitness area and rooftop restaurant, to name a few, the new Executive Spa Hotel in Fiorano Modenese offers a modern experience with an international flare.
Set amid the hyper-technological Motor Valley and the hearty and welcoming Food Valley: this already says a lot about the new Executive Spa Hotel in Fiorano Modenese (MO). Born in a historical building later revamped and reinvented, the hotel is looking at the future with an environmentally smart and fully plastic-free attitude, in the mark of Made in Italy.
If in 1985 this was the area's first four-star hotel, today it offers a truly contemporary experience. Returning guests and occasional patrons alike will enjoy the highly acclaimed EXÉ Restaurant, a 400 m² wellness centre, a digital fitness area open from early morning, the new ALTO restaurant and the ARIA, cocktail bar, both located on a striking rooftop where they can drink and eat under the stars.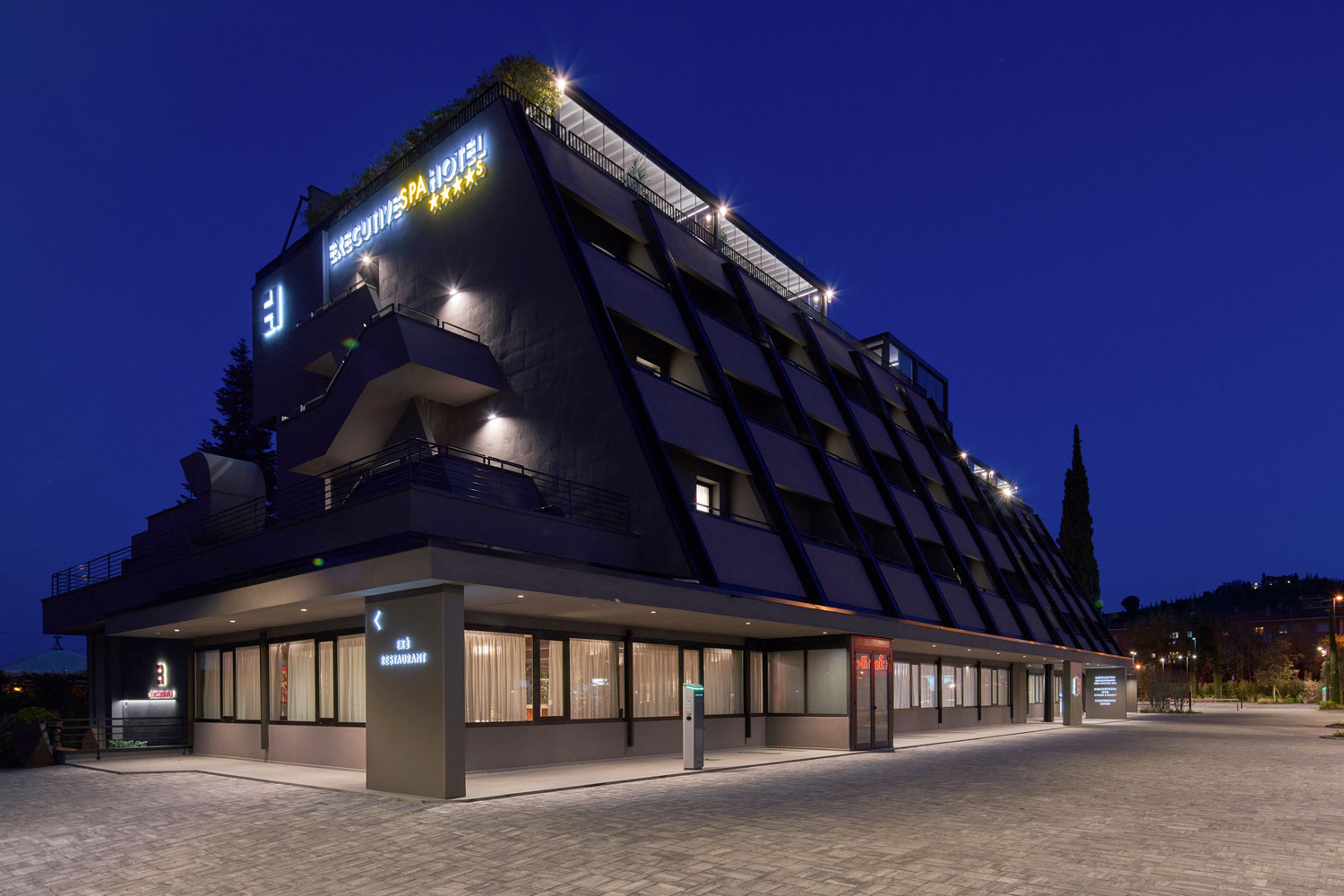 Luxury Smart Hotel
The modern Executive Spa Hotel has 64 rooms, five of which are suites with a design inspired by the 1950s and materials supplied by the most prestigious interior design brands on the Italian scene.
The building didn't undergo a simple renovation, but a smart rethinking of the concepts of hotel and hospitality. This also shows in terms of security, room access and booking: a purposely designed mobile app allows guests to check in from home, thus avoiding queues and crowds at reception. Your phone will also become the key to your room, you can open the door by simply tapping your mobile. A fit band will grant you entry to the spa and gym, control the fitness machines and open and close the locker.
All areas are equipped with an electronic air filtration system to control airborne microbiological contamination, while each room has a device with UVA lamp technology for automatic sanitisation. A facial recognition reader allows entry to the hotel only to those wearing a mask and having a normal body temperature.
The hotel makes use of strictly organic detergents and cleansers, in the light of our commitment to sustainability. This falls within the plastic-free philosophy that has guided the choice of all materials in the renovation, in the attempt to drastically reduce our environmental impact and, consequently, energy consumption.
Breakfast with regional flavours
Our breakfasts will offer a mouth-watering experience, engaging all five senses, with a rich buffet of sweet and savoury delicacies, created by the experienced and talented Chef Francesca Simoni.
The recipes, such as tagliatelle cake or cotechino sausage with hot zabaglione, are inspired by the local cuisine of the region Emilia-Romagna, famous all over the world, with a modern and surprising twist. We complete our offer with fresh fruit and juices, vegetarian and vegan dishes.
We value our traditions and wish to enhance them in a modern take, to give our guests the best experience possible.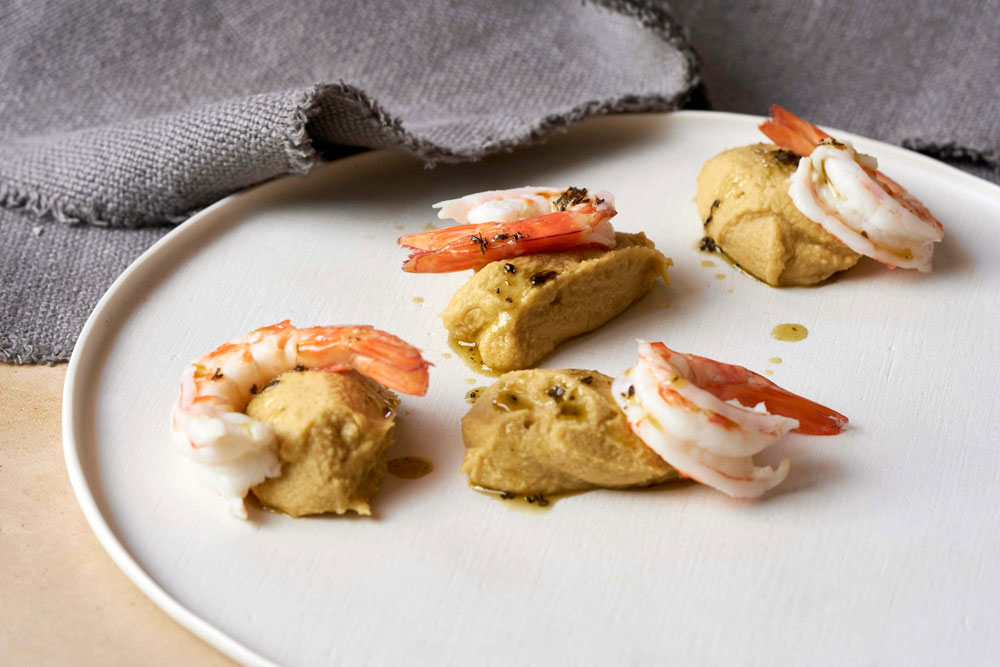 Restaurants & Cocktail Bar
Our penchant for uniqueness and style is reflected in the interior design and menus of the two restaurants, which are themselves a culinary expression of the hotel's dual spirit.
A symbol of quality that does not falter even in hard times, the EXÉ restaurant aims first and foremost to serve a sophisticated food and wine experience that satisfies the most discerning palates and promotes relaxation, thanks in part to its ample spaces and an air treatment system with electrostatic filtration that reduces bacteria by 95%. This is the realm of Chef Paolo Balboni who reworks Italian culinary tradition to enhance its flavours with a good dose of imagination mixed with the finest ingredients. With over 400 labels carefully selected by our experienced dedicated staff, our wine cellars make us proud and provide our guests with a wide selection, so they can find the perfect accompaniment to any of the dishes of our extensive and refined menu. Speaking of which, we feel that our gourmet pizzas deserve a mention: the dough is made with stone-ground flours, while the ingredients for the toppings, chosen with extreme care, display the excellence of our country, like buffalo mozzarella from Campania or anchovies from Cetara, without forgetting of our own local treasures, such as the salami from the finest breeds of pork.
ALTO
ALTO is an innovative and sophisticated rooftop restaurant located on top of the Executive Spa Hotel. For us, it's almost a symbol of a cuisine in continuous evolution, in terms of shape and style, without ever losing its identity and ties with its roots. The large windows look out over the Apennines and the Basilica of the Blessed Virgin of the Fiorano Castle, while the ceiling with pivoting modules allows you to dine under the stars. For an even more unique experience, book the 'chef's table' and dine with a view of Chef Mattia Trabetti's talent in action.

ARIA
ARIA is our cosy cocktail bar overlooking the lovely panorama of the Fiorano hills. It shares with ALTO the tasteful interior and the great rooftop location. The space has been designed to be green haven surrounded by crystal walls, the perfect location for a special evening, intimate concerts or exclusive gastronomic events. The person who brings it all together is expert barman Dario Allegretti, known for his creative drinks and his knowledge of the best international cocktails. In addition, you can also quench your thirst at our lobby bar, open 24/7.
Exclusive Wellness & Fitness
More than 400 m² entirely dedicated to wellness, relaxation, and physical activity: this is the Executive's tribute to the philosophy of health and wellbeing. A completely new structure with state-of-the-art equipment and led by personal trainer Luca Roncaglia welcomes guests to pamper themselves with treatments, massages, comprehensive courses, yoga or Pilates. Just like the best international facilities, the hotel allows access to the gym and spa (where the cosmetic line is organic and plant-based) also to external parties, who can benefit from special training packages and programmes upon reservation, without any subscription or monthly fee.
A team of personal trainers and a nutritionist will make your fitness and wellness experience even more tailor-made, by creating complete programmes with a fitness board, diet plan and individual wellness treatments. Anyone with a minute to spare for self-care can make an appointment and the benefits of our Finnish sauna, Turkish bath, sensory shower, ice cascade, sensory paths, aroma and colour therapy. You can enter a world of wellness and total relaxation, literally and figuratively, with our Himalayan pink salt grotto, 4 massage rooms, a private Spa with hydromassage, relaxation shower, a room for couple treatments, a silence room with chaise lounges and a selection of herbal teas, a refreshment room for private tastings and a poolside relaxation room.
The gym is open from early in the morning and is equipped with biometric scales and Technogym machines, with a smart interface to access your personal file via mobile phone and share activities with the trainer and friends. The gym is small in size to guarantee exclusive and customised workouts for up to three people and yoga and Pilates sessions with limited participation.
Breakfast and lunch, freshly prepared according to the nutrition factsheet and served in the EXÉ Salon, can also be included in the package.
Meetings and Events
Executive Spa Hotel is the perfect location for meetings, conferences, events, and business meetings, thanks to its large spaces and state-of-the-art equipment.
The modular room allows for different configurations: either a single room with a capacity of up to 120 guests, or two separate rooms with a maximum capacity of 70 and 40 guests. Each room has its own equipment.
For an extra professional experience, there is a control room with the facilities for streaming and simultaneous interpreting.
Through any device, the user can interact with the system by playing any audio and video source directly on the multimedia infrastructure of the conference room. The Executive Spa Hotel can offer a customised choice of catering menus, prepared by our chefs with the best local products, which can vary from buffet lunches, standing or seated, to coffee, refreshments, welcome cocktails, aperitifs, business lunches, gala or corporate dinners.
A dedicated office with specialised staff will be available to assist with the organisation of your event.
The Richness of our Territory
Executive Spa Hotel lives in a region that has lots to boast: Ferrari, Pavarotti, gastronomic excellence, and outstanding wines. This is why we want to promote and foster our territory and its richness by incorporating a set of experiences for our guests, such as a visit to local producers of balsamic vinegar, a bike tour on the beautiful hills of Castelvetro or a ride on a legendary car.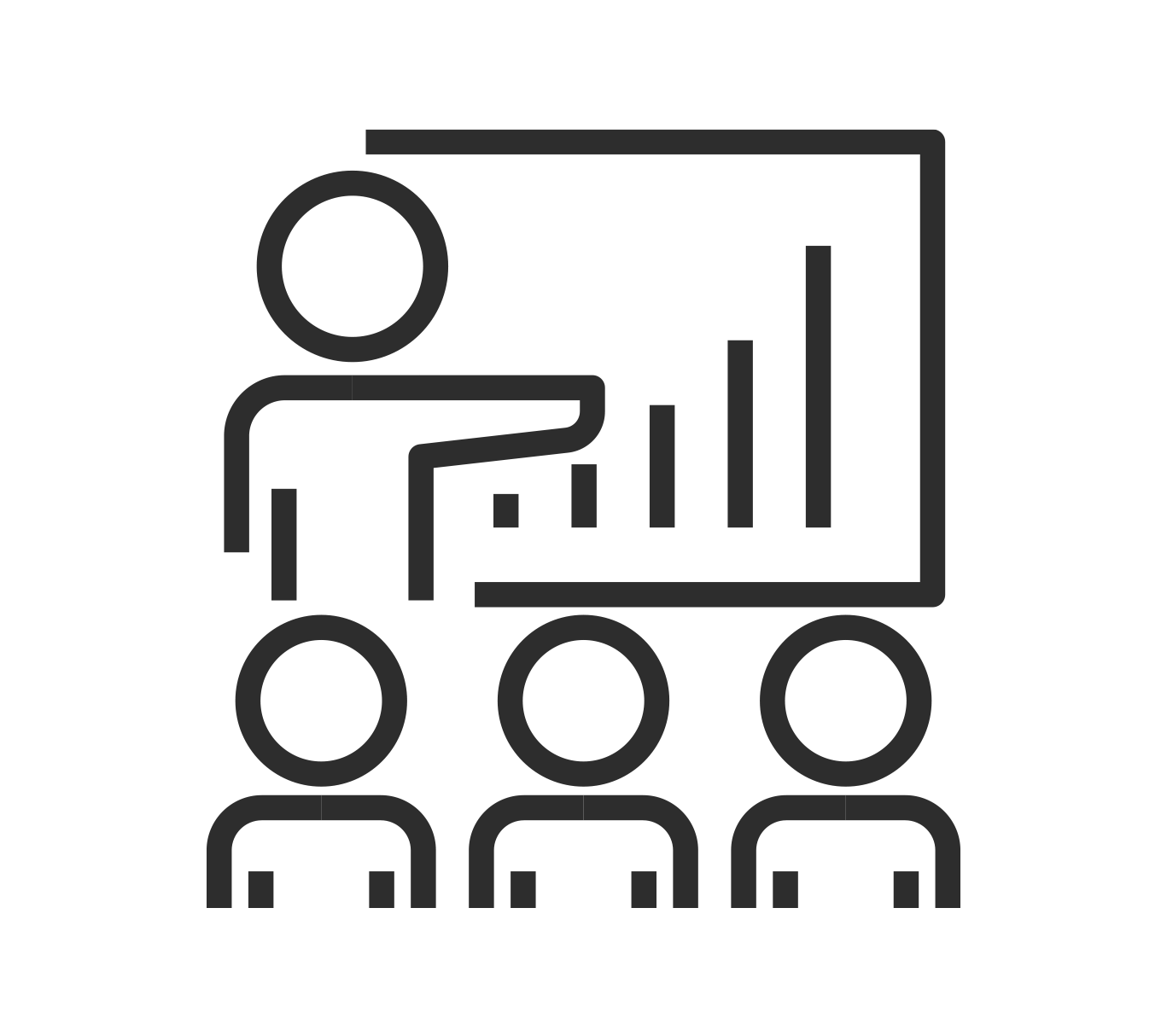 120
seats in the multimedia meeting room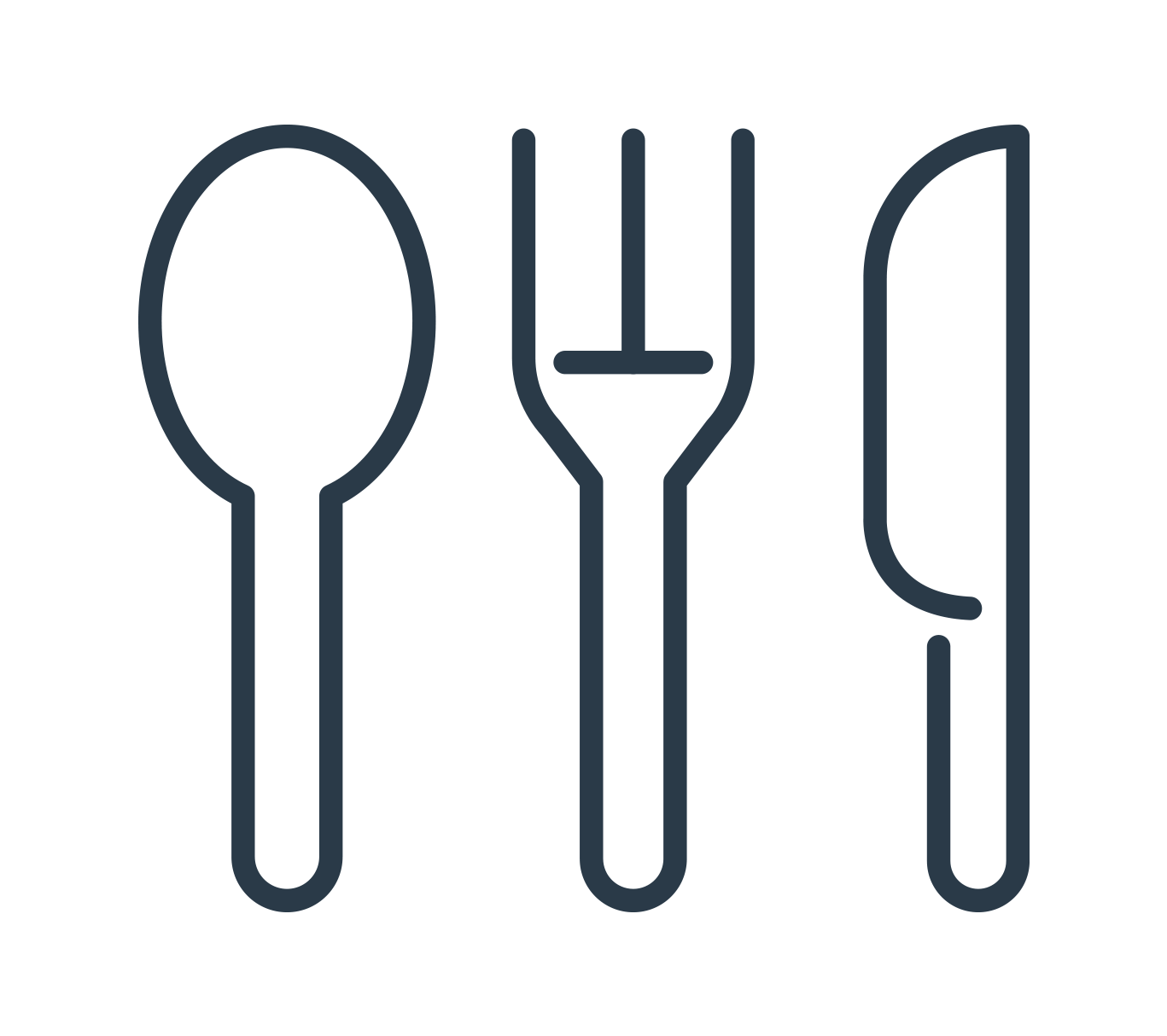 120
seats in 2 restaurants and 1 cocktail bar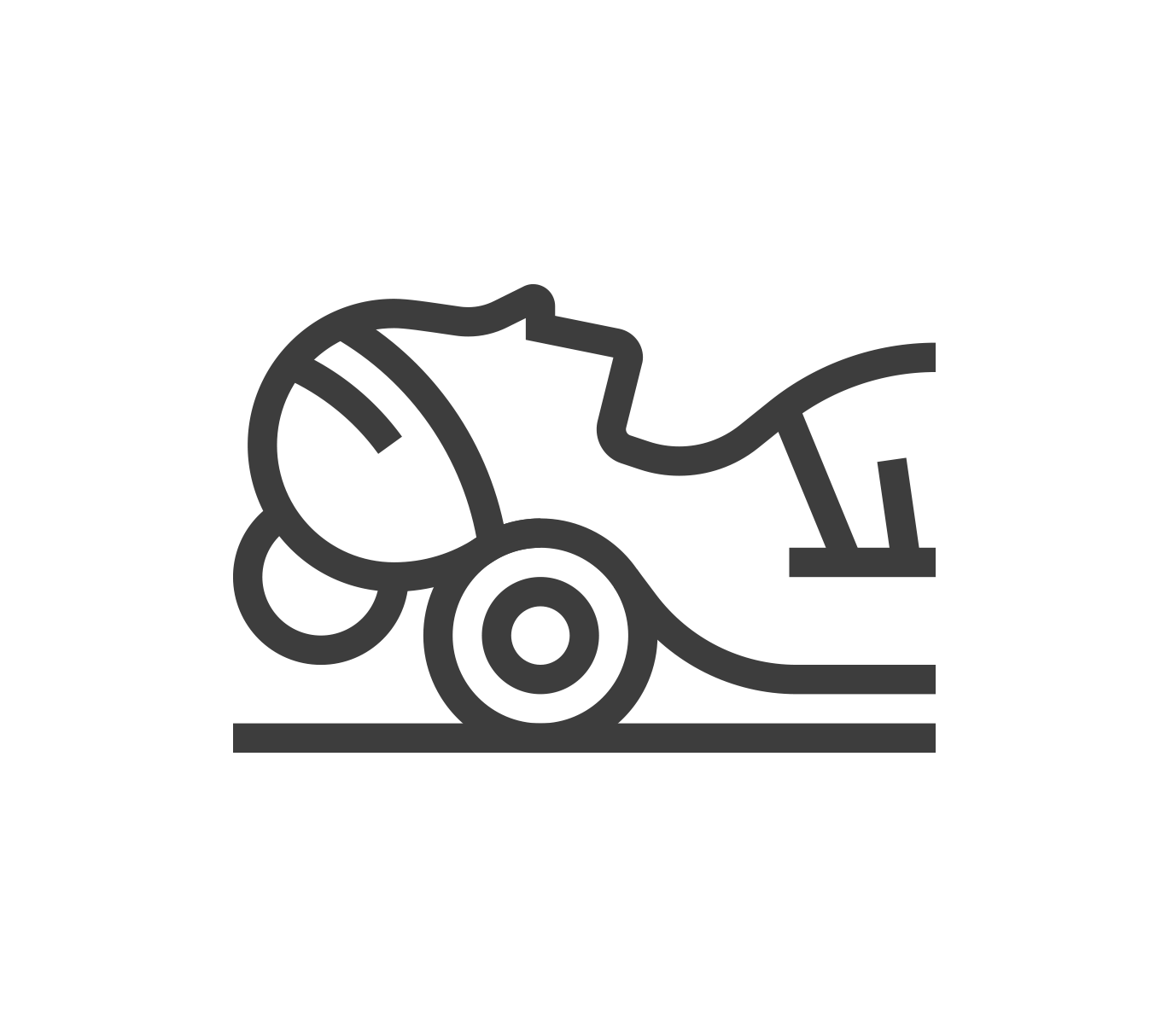 4
SPA rooms (1 private SPA and 1 gym)
1
panoramic rooftop
EXECUTIVE SPA HOTEL
Via Circondariale San Francesco, 2 41042 Fiorano Modenese (MO)
+39 053 6832010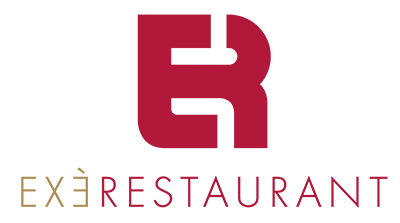 EXÈ RESTAURANT
Via Circondariale San Francesco, 2 41042 Fiorano Modenese (MO)
327 3034870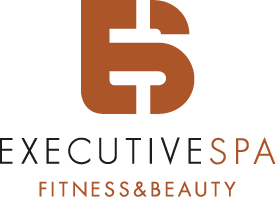 EXECUTIVE SPA - FITNESS & BEAUTY
Via Circondariale San Francesco, 2 41042 Fiorano Modenese (MO)
+39 053 6832010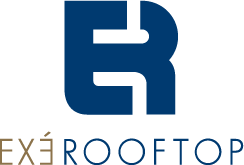 EXÈ ROOFTOP
Via Circondariale San Francesco, 2 41042 Fiorano Modenese (MO)
+39 053 6832010